Magento has evolved recently in the year of 2008 and today, it turned into a brand named ecommerce Management System. Almost all the big companies are favoring or using Magento as the online shopping or trading platform. Yes, Magento is a feature-rich platform and helps you to perform effective management of online store. This ecommerce platform is based on Zend Framework and thus, need more technical expertise for creating themes, converting PSD to Magento Themes, and do further modifications. In this write up, we will discuss few important questions to ask before placing a PSD to Magento Theme Conversion order.
What you need exactly?
We suggest you to list all of your requirements which you want to fulfill from your new converted theme. You can create a list in a spreadsheet file with details like navigation elements, drop-down menus, newsletter service, stars to rate the products, image slider, blog section, etc. for your Website. Following image show such an example.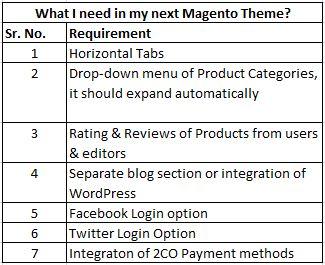 Sample table showing the requirements in a PSD to Magento Conversion
Is it a company or freelancer?
It is better to know with whom you are interacting or going to make a deal, is it a freelance or a company? If it is a freelancer then is it full-time or part time? If it is a company then how big it is, what is its team strength, where it is located, etc.? You can prefer a company for faster turnaround times as they have multiple developers to assist, whereas full-time freelancers can be cheaper as compared to the companies  and part-time developers are good resource to utilize for small works to be done or on the projects where you have time.
We suggest you to browse the World Wide Web through search engines and list the name of appealing professionals with their online URLs.
Have you visited their online sites?
Its advisable to visit the Websites or online profile of the PSD to Magento providers. Grab all the details like price range, availability, features, and other services.
What they offer exactly?
Check the Home page or Magento service page to know what they're offering exactly. List all the features mentioned therein and then browse the order page to know their basic packages plus add-ons. Add-ons are the additional features in a Magento theme, which you can purchase additionally. Means you've to pay for both basic package and selected add-ons. If a company doesn't disclose the additional features at Order page, then contact them quickly will they support your uncovered requirements and how much they'll charge for it.
Note down the cost of basic packages plus add-ons for each service provider in a spreadsheet. This will help you to have an exact idea about the average cost of your Magento Theme Conversion job. You can shortlist the service providers based upon this price comparison but do not make it a final decision as your decision depends upon several factors like turnaround time, non-disclosure agreement, guarantees offered etc. We'll highlight all these points in next section headings.
Which versions they support?
Currently, Magento 1.6.0.0 is the latest version available. However, its predecessor 1.5.0.0 is being used mostly till yet. Therefore, you should check the Order page or enquire the service provider at which version they'll convert your theme. Will the converted theme be compatible with the latest version? Is there any scope of compatibility for future releases?
Are they dedicated to Magento?
There are numerous Theme Conversion Service Providers, who deals in conversion of different systems like HTML, WordPress, Joomla, Drupal, Magento, etc. It means either they have different team for each systems or their small developer team is dedicated to more solutions at a time.
If you observe multiple conversion services at a Website then make sure to contact its service provider to know whether they've a dedicated team of Magento Developers or not.
What is their team strength? Are they open for my work?
Check out the Websites and online profiles of the selected Magento Professionals to have a clear idea about their team strength. If nothing is disclosed about the team size then contact the service provider to provide an idea how big is their team. You can also ask them about the available bandwidth for your project and how many developers will work on it.
What is their Work Process?
Most of the good PSD to Magento service providers often disclose their work process from the point of receiving an order till the delivery of final theme. If you've any doubt about their work process or do not know it then drop an email to the service providers to have more information about it. The Work Process will clearly explain how they receive your order, how they start their conversion work, how they finish it and then test it before final delivery.
What is their turnaround time?
The turnaround time of a PSD to Magento conversion job differs for each service provider. It depends upon factors like price of conversion, available bandwidth, design complexity, third-party integration, quality of the code etc. First, you've to calculate in how much time you need the converted Magento Theme for your Website. Then list the turnaround time of selected service providers in your spreadsheet to compare them. You can also contact the preferred service providers to negotiate the turnaround time. We suggest you to take a timeline guarantee from the service provider to deliver the converted theme on promised time.
How they take orders?
There are two ways of placing PSD to Magento conversion order with a company: one is through Order page and other is Request for Quote. If you are in hurry and your requirements are fulfilled within an offered basic package, then go for Order page. You can opt for 'Request for Quote' to negotiate the price, negotiate the turnaround time, integrate add-ons and for other requirements.
Is there hidden charges?
Before making the final order, you should make sure that you're not being charged extra. Be careful and note down the cost of each step like cost of basic package, price of any add-on, more price for less turnaround etc. in spreadsheet and calculate the total cost. If it matches then go ahead to make the payment.
Which companies are their clients?
Check out the client section of the service provider Website to have a clear idea about the previous good work and relation with big brands. If you think necessary then you can also contact the mentioned clients on your own to know the genuineness.
What they have in their portfolio?
Check out the Portfolio or Sample code section at the Website of a PSD to Magento service provider. This will show a glimpse how good they are in their working. You can test the sample code mentioned in the portfolio at some standards like W3C Validation, Cross-browser compatibility etc. for getting more information.
What other says about them?
Read the testimonials of a service provider at its Website and Google Products Page. You can also browse their profiles on online social media Websites to know their fans, followers and communities. This will help you to know what other thinks about the targeted company or professional and decide does it worth your valuable Theme Conversion order.
Have you tested their Website?
Just visiting the Website of a service provider does not help you to make a final decision about them. You also have to test their Website on the same standards for which you're dealing with them. We suggest you testing a PSD to Magento service provider's Website for following points:
W3C Validation,
cross-browser compatibility,
cross-platform compatibility,
Broken Links, and
Page Loading Speed.
Are they in your time zone?
The turnaround time and support are solely depends upon the time zone. If you're residing in the United States but the provider is in India then there is difference of 12 hours or half-day in the turnaround time. So, it is your duty to verify the time zone of your preferred PSD to Magento service provider for having a balanced communication and clear idea about the turnaround/support.
Do they provide Development Monitoring?
A thoughtful PSD to Magento theme conversion process include several steps. During these steps, the Website owner can go for more changes or third-party integration. Therefore, it is required for you to monitor the theme conversion process while the service provider is working upon it. You can ask the service provider to offer development monitoring & support so that you can monitor what a developer is doing to convert your theme, how is he/she working, and what more you need in theme conversion.
Do they offer free Support?
Almost each PSD to Magento service provider offers free technical and customer care support with its theme conversion service. You can check Website of the service provider to know the exact period of this free support, days & timings of getting the support, and the communication channels to connect with their support team. If anything is undisclosed, then contact the service provider straightaway to know support details.
Communication Channels
You must be aware about the communication channels offered by preferred service providers. Most common used channels are Contact Form, Phone Number, Email Address, Live Chat and Instant Messengers. You can also note down the channels information for shortlisted providers at a safe place.
Do they offer any guarantee?
Most of the PSD to Magento service providers offer different kind of guarantees based upon their strategies such as Money Back Guarantee, Best Price Guarantee, Timeline Guarantee, Satisfaction Guarantee etc. Be sure to have a look on all the offered guarantees for a service provider. We suggest you to go with a PSD to Magento service provider offering at least partial or full Money Back Guarantee. You can also go for Timeline Guarantee to have surety of the completion of your work upon time.
Do they offer Non-Disclosure Agreement?
Non-disclosure Agreement offers a guarantee that your design and other business information will remain yours and never be disclosed to other without your approval. Make sure to read the offered Non-Disclosure Agreement and enter it while ordering your conversion job. You can also request for a written confirmation from the service provider to enter into NDA.
Does they have safe place to make an online purchase?
Make sure to check all the legal documents like Money Back Guarantee, Refund Policy and Privacy Policy while buying the PSD to Magento service online. Scan the order page carefully to check whether it has selected unwanted options automatically to increase your price or not. Make an online payment when you're completely satisfied else contact the service provider to clarify any doubts.
Do they offer any discount?
Is the service provider offering any discount and offers currently? You can notice the running offers at the Home page & Order page of their Website. Make sure to read all the terms & conditions mentioned in the offer before going to have a purchase with the same. Are you a returning customer then check whether you are being offered any discount or not?
What payment options they support?
Today, the companies support different payment options due to their regional countries. Visit the order page carefully and check whether the offer payment options match your opted medium or not. You can also contact the service provider to provide an alternate way to make payment from your medium.
What are their payment terms?
Mostly all of the service providers ask for 100% in Advance. Still you can check the Order page or contact them whether they can offer to pay some partial payment after the project delivery.
Conclusion
You can ask above questions to have an effective and efficient converted Magento Theme for your ecommerce Website. Converted Themes passing above discussed parameters will help you to boost your online business. If you've recently received a converted theme or have an interaction with any PSD to Magento Service provider then let us and other readers to know about your experience. This will help you to get most out of a Magento Theme conversion job.