Magento is an open source CMS which is very popular for its e-commerce features. It is a CMS that delivers on efficiency, cost and features for e-business is immensely favored. From among the available CMSs for online e-business, Magento is rated and highly favored for many reasons. In this article, we discuss the advantages of the Magento CMS for an online store.
Multi Store Capability:- Magento as a software CMS is highly capable in managing and orienting order management for a business with multiple estores. They can be managed from the same admin panel. Thus the opportunity in creating an online store whereupon orders can be conducted simultaneously with switching to other websites is possible with Magento. Herein is an important reason why the Magento software CMS is special as an e-commerce platform.
Inventory Management:- The order management and inventory tracking for the online store is easily done by means of the administrative user interface. Also the dynamic cataloging for different classes and sub-categories of store items can be formed. Here the updations are easy and can be browsed by the consumer. Magento has thus an advantage in inventory management.
Shopping Cart:- For an online e-store the shopping cart is an important aspect of web design. Generally, it is easy and safe to use shopping cart from the Magento software CMS. It is a secure CMS. It has a developed holistic ecommerce solution for the user and /or business developer.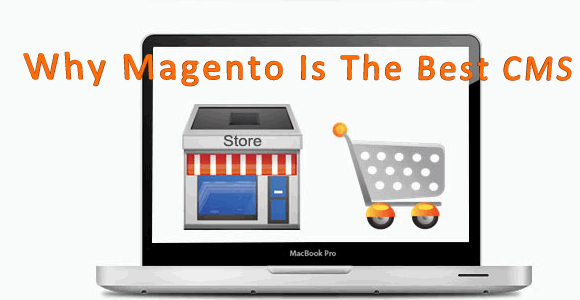 SEO Friendliness:- This is another core feature which is the benefit to an online store alongwith other similar features. Here SEO rankings, choices in accessing rewrites and generating sitemap are important features which can lead to developing online e-store with considerable ease and convenience for higher webpage rankings and traffic.
Analytics And Reporting:- Magento as an ecommerce CMS can develop the site analytics while the management of data, orders, and reporting of information on customer clicks, visits and views can be assessed. It is easier for the Magento CMS to fulfill this objective in online e-store design and development.
Cost Efficiency:- Since the Magento CMS is freely available on the net, it is cost efficient. Also in comparison to the third party service providers it has a cost minimized design. Here the development costs of the website or online e-store are easily managed while these may not be possible for other CMS.
Marketing Benefits:- Creating, generating and launching ad campaigns, promotions and sustained visits by customers is an added benefit from Magneto CMS. Leveraging customer attractiveness and positioning for increased benefits from marketing campaigns for online store is an advantage many online business owners wouldn't refuse.
Customization:- The design and development of online e-store is generally not possible without the gains from customizing the webpages, shopping cart, plugins. Creating webpages for online e-store which are favorably positioned to bring clarity to customer needs, deliver promise of authenticity and reliability is possible with Magento.
Integrated Google Analytics:- Google analytics are commonly described for integrating data of the customer with the Google data. Conceptually an added CRM is needed for the integration. But from Magento it is easily possible to integrate the customer information with the website.
Payment Gateway:- Magento as an open source CMS is integrated with payment gateways which can be applied to the online store or ecommerce store. This benefits the strategic design for renewable settlements. The Magento e-store can be integrated with Google checkouts, Amazon, Paypal.
Conclusion:
Magento as a popular CMS for online e-store design is clearly a favorite. The design of e-stores is that much more relevant, cost effective and strategically worthwhile with the Magento CMS. In this article, we have discussed almost 10 benefits and advantages of Magento CMS for an online e-store. Readers of the article are invited to send their comments and views.